Alan Thayer and Sam Kittle are planning the Eleventh Annual Tandem-Wing Fly-in at Livermore Airport (LVK) in northern California (near San Francisco) on August 24-26, 2012. Join us in celebrating eleven years of tandem-wing flying on the West Coast and beyond! All tandem-wing and canard airplanes, owners, builders, and "I got to get me one of those" people are invited.
In the tradition of featuring outstanding guest speakers at our past events, this year, we are most pleased to announce that fiberglass-meister extraordinaire, Steve Robinson, has agreed to share his expertise in all things fiberglass during our Saturday afternoon forum. Whether you are prepping your plane for its first paint job, or refinishing an older surface, or just tired of those visible evidences of hangar rash, Steve will share what he has gleaned over decades of restoration work to make our planes look their best and keep their luster in the air for years and years.
The Fly-in will get started on Friday afternoon and evening with a no-host dinner at Beeb's Restaurant on the field starting at about 6:00 PM. Last year, 2011 a record number of people, over 30, made it to the Friday night dinner. We'll get going again at Alan Thayer's hangar #262 at 10:00AM on Saturday morning, when all aircraft can taxi over to Alan's hangar row for photo ops, and a cowls-off time for those interested in looking at engine installations. Barbecued hamburgers, Polish dogs and potato salad will highlight the Saturday evening dinner, right at hangar #262. We'll keep going until the last person gives up. We are planning on an informal Sunday breakfast at the local Shari's restaurant in Livermore, just before departures, for one last opportunity for visiting, saying good-bye, and getting answers to questions.
This is an informal fly-in aimed at getting to know some of the names you've seen in Q-Talk, and on the Q-List and Dragonfly List. There will be rides, builders tips, a very special presentation, and lots of talk about these birds. We should have 6 local "Q's" in attendance. Jim Patillo's Oshkosh Lindy winning Q-200, Alan's Q-2/Jabiru 3300 and his Quickie-1 with the new carbon fiber spar, possibly Mark Summers' Q-2/O-200 (maybe - he is enjoying his retirement and has moved out of the area) and Brad Olson's Q-200 which Brad bought from Tom Moore. Brad has just completed his panel modernization. Also on hand will be Bob Farnam's highly successful, 600+ hour Q-200, N200QK.
Also attending this year will be at least one Dragonfly flying in from Southern California, several LongEZ's, a VariEZ, and possibly several Velocities, in addition to possibly several Q-200's flying in from several states away. Once again this year, we are extending a challenge to all our tandem-wing and canard brethren east of the Rockies to join us for this event!

Marc Zeitlin, Speaker at our 2011 Event.
---



PLEASE NOTE that donations will be gratefully accepted to help off-set expenses incurred for hosting the Fly-in, including our Saturday evening dinner. Thank you in advance for your support at this year's Fly-in!





BREAKING NEWS: Many of you in years past from out of town have found some great hotel deals on the internet. But in case you haven't been able to search the internet for bargains in lodging, we have once again this year arranged for a "Fly-in Special" of $62.99 per night at the Extended Stay America hotel, in Livermore, an easy walk from the airport. Our thanks to the great folks at Extended Stay for their continuing support of our event! You can call direct to make your reservations and hold your room with a credit card at 925-373-1700. When you call, mention the "Livermore Fly-in Special" to lock in your rate, and if the receptionist can't seem to find that, ask to speak with "Carl," the regional marketing manager who helped negotiate this special rate. Several of you have stayed at the Extended Stay before, and rooms come complete with a fridge, and a small stove, as well as Wi-fi connections. You should be very comfortable there, and although breakfast is not included in the price, there are several restaurants just a stone's throw from the airport, including a Carl's Junior and a Starbucks for those who need your morning caffeine. You might do even better by checking the internet for "Livermore California hotels" and seeing what you might come up with. Several years ago, it was discovered that the "America's Best Value Inn, Livermore" was a bargain, and upon checking there a few days ago, i discovered that internet rates range from $49.50 for AAA, AARP, Seniors, and the Military, and $55.00 per night for the rest of us. The downside is that this hotel is farther away in downtown Livermore, however, but us locals can certainly get you a ride to and from the airport.


For arrival information and an airport map, scroll down.

For those who might want to stay and make this a longer vacation trip with flying companions, the Bay Area Rapid Transit system is about 3 miles away in Pleasanton and can take you quickly to downtown San Francisco for sight-seeing or shopping. Beeb's, the location of our kick-off dinner, is also open for breakfast, lunch, and dinner. You can taxi there and park next to it. There is also a Cattlemen's restaurant within 1/4 mile of the terminal. Other local attractions are the fine local wineries. There are 13 wineries in the Livermore area, including Wente and Concannon, plus a number of smaller quality wineries. There is also a very nice muni golf course right next to the airport. Beeb's Restaurant is actually at the golf course.

Should you be arriving prior to our fly-in dates, some of our fine local hotels are:


1. Hampton Inn. 2850 Constitution Drive, Livermore 925-606-6400, 800-426-7866. Kitchens in each room. (.5 mi.). Complimentary breakfast.


2. Residence Inn by Marriott. 1000 Airway Blvd., Livermore 925-373-1800, 800-331-3131. Kitchens in each room. (.6 mi.). Complimentary breakfast, free shuttle within 5 mi. No pool.


3. Comfort Inn. 2625 Constitution Drive, Livermore 925-606-6200. Complimentary breakfast (.6 mi).


4. Courtyard by Marriott. 2929 Constitution Drive, Livermore 925-243-1000. (.6 mi.) Courtyard Cafe on premises.


And, of course, 5. Extended Stay America. 2380 Nissen Drive, Livermore 925-373-1700, 800-398-7829. Kitchens in each room. (.2 mi.). Next door to Cattlemen's Restaurant. No pool.


All of these hotels are very nice and new, and most have pools. For those who may be wondering, there is no camping at LVK.


Rental Cars: Call Enterprise Rent-A-Car at (925) 449-3600. There is an airport discount available. Use discount #R05430. Livermore Airport Information:


ATIS 119.65
(925) 447-9516
ASOS (925) 606-5412


Ground 121.6


Tower and CTAF 118.1.


On busy days, a second tower frequency is sometimes run for the south side (25L or 7R). Listen to ATIS to find out whether it is active. Tower operates from 7:00 am to 9:00pm. Runway 25R/7L is the longer one with lights and an ILS. It is about 5500 ft long. 25L/7R is not lighted and is about 2700 feet long. The field elevation is 400 feet MSL and the TPA is 1400.


Livermore is just outside the largest ring of the SFO class B and has no airline activity - just GA. We have a VERY large resident collection of antiques, warbirds, and homebuilts.


The weather is likely to be severe clear and pretty warm. August temperatures can get as high as 95-100 degrees during the day, but with low humidity, and cooler evenings. Last year, the weather was about 80 degrees and beautiful. We are close enough to the ocean to get cool marine air, which may bring some low stratus to the Livermore area early mornings.


San Francisco is about 20 minutes away by Q-200 and well worth an air tour (see the pictures above). SFO is in class B airspace so pay attention, but you can see a lot without penetrating the class B, especially in the North Bay. South of SFO is pretty clobbered with SUA because of San Jose and Oakland. The controllers have been cooperative about allowing "Bay Tours" inside the class B if they aren't too busy. There is no official "Bay Tour" - mostly you just tell them what you would like to do.


Local Phone Numbers to keep handy:


Sam Kittle (cell): 209-559-0903


Alan Thayer (cell): 510-427-3432





Arrival Information:


North is up in the photo just above. Please DISREGARD the right hand arrow in the above satellite picture, denoting the former location of the Fly-in during previous years. This year's location continues to be on the South side of the airport, in the collection of hangar buildings shown vertically in the middle part of the picture, 4th row in from the left. The tower, terminal building and the transient overnight parking are midfield on the north side. Aircraft arriving Friday afternoon or evening can park at transient parking, in front of the terminal building.


If you will be arriving Friday afternoon, tell ground control that you'd like to taxi to Beeb's, or to transient parking. They will most likely give you a progressive via taxiway ALPHA. The Airport manager has graciously offered to waive overnight tie-down fees for our event, but you must register your tail number with the office just inside the Terminal Building upon arrival, otherwise you might be charged fees by mail later. Beeb's restaurant is at the northwest corner of the large asphalt tiedown area on the west side of the tower. You can taxi there and park temporarily, then re-park for the night at transient parking later in the evening after supper. Again, plan your arrival to coincide with the start of our dinner at 18:00 at Beeb's. If you are driving in, you can reach Beeb's by taking Airway Boulevard south from 580, then turn right to the golf course. If you follow Airway Blvd. north over the 580 freeway, you will see the hotel area on the right just after you cross the freeway.


If you are flying in Saturday morning, tell Ground Control that you would like to taxi to hanger #262, the location of the Tandem Wing Fly-in, of which they have already been notified, and Ground (121.6) can give you a progressive.


To reach Alan's hangar by car on the day of the Fly-in, from 580, take the Airway Blvd turnoff South, and follow it along as it parallels the sheltered tie-downs on the airport property on the right. Make a right turn at the light on Kitty Hawk Road, (NO right turn on red) and the next right again onto W. Jack London Boulevard. Proceed about half a mile to the last row of hangars where you will see a gated entrance to the field. You can call Sam or Alan on their cell phone to come and let you in, if nobody comes by with a clicker. Hangar rows are marked with hangar numbers, and are easy to locate.


Please let us know ASAP if you will be able to attend, and how many will be in your party, so that we may get a fairly accurate head-count in planning for our Saturday evening chicken barbecue. (One year, some had to go without, as we had run out of chicken!) You can send an e-mail to Sam from the Q-List, or give us a call if you have questions. Looking forward to seeing you in Livermore!


Sam Kittle 209-559-0903


Alan Thayer 510-427-3432




---
Notes from the 2009 Event, with Guest Speaker Gary Hertzler, August 21-23, 2009: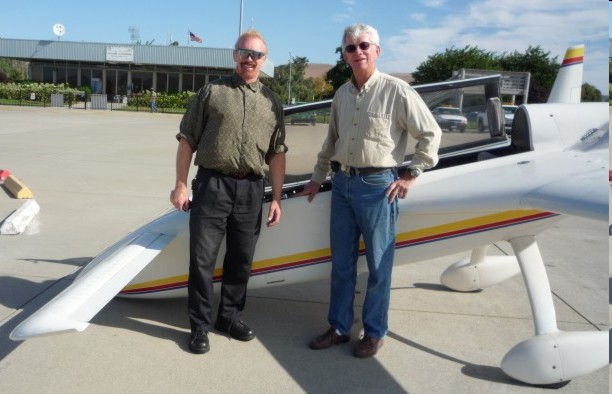 "When it rains, it pours..." How true that saying is, though not in the sense of precipitation, as the weekend of August 21-23 saw beautiful, warm weather in the Livermore, California area, with clear skies. But what did pour was the wealth of knowledge and information exchanged during the Eighth annual Tandem Wing Fly-in, held at LVK in the middle of August. The event's two co-hosts had been planning for months on making this the best fly-in ever, and the many smiles on the faces of those attending must have proved that our efforts were successful. A record number of aircraft were exhibited during the Fly-in, totaling 17 this year, one more than last year. We were graced with 8 Q-types, including a Q-2 Jabiru, flown in by Paul Spackman from Casper, Wyoming, Mark Summers' Q-200, from Truckee, California, and locally-based Q-200's built by Bob Farnam and Jim Patillo, Geoffrey Rutledge's and Brad Olsen's Q-200's and Alan Thayer's Q-2 Jabiru and Q-1 with the new carbon fiber spar. This event was heavily advertised to the EZ community, and accordingly, a good number of EZ type aircraft also showed up, including the amazingly efficient VariEze built by our featured speaker, Gary Hertzler, who flew in from Arizona, and a gorgeous Cozy-4, flown in from Sacramento. We also welcomed Steve Kearny's locally-based and beautiful VariEze, and Long EZ's built by Ray McCrae, John Meir, and Barry Weber. Dave Dent was also present with his Velocity, and Geoffrey Rutledge taxied over his Glassair II. And finally, Dragonfly builder Terry Adams arrived in his striking Thorpe T-18, the only metal airplane of the entire fly-in fleet this year. We missed a number of pilots and planes who had actually intended on attending, but for various reasons, couldn't launch, or had to turn back. Among those who had to turn back were none other than Ernest Martin and Jerry Marstall, who were planning the surprise of the century, but had to turn around above Oklahoma, due to an oil leak... and what a surprise indeed that would have been! Hats off to you both for making such a valiant attempt, and that was indeed the best kept secret ever, as none of us out here even had a clue!!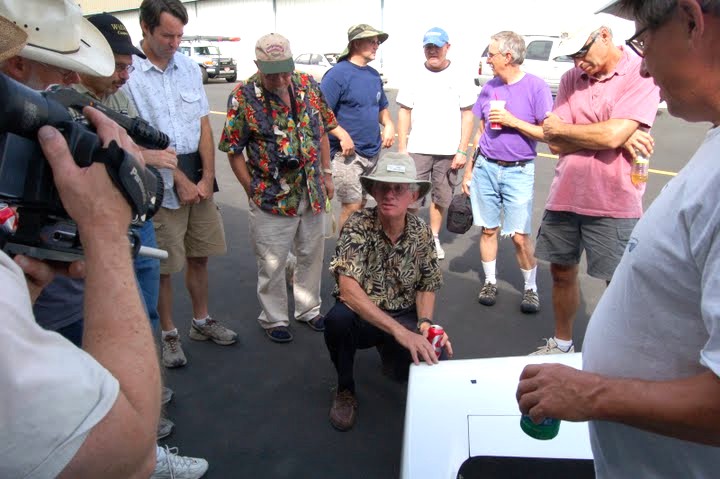 The heart of the Livermore event this year was what we all learned while listening to Gary Hertzler, who held us spellbound during his two forums, and during his hands-on demonstration of how our airframes can be made much more efficient. Among the multitude of lessons we learned was the fact that a 5.00x5 wheel and tire equates a loss of 2.5hp at 150 knots, and 5.8hp at 200 kts. Similarly, tip strobes each account for a loss of 0.8hp, and 1.8hp, respectively; 2" exhaust pipes, 6" long, account for 1.5hp 3.5hp respectively; and one-quarter inch diameter wire, 1" long will eat up 1.7hp, and 3.9hp, respectively. Amazing! Gary's VariEze, in which he flew in, was an amazing showcase of improvements. As an example, in 1984 Jeanna Yeager flew his stock VE for a closed course World Record. In 1994, Gary flew a much modified VE N99VE for a new record exceeding Jeanna's by over 100 miles on 10 fewer gallons. N99VE presently flies 30 mph faster at the same fuel flow than in the plans configuration 29 years ago. For this weekend's trip, Gary's time to LVK was 3:53 hours and his return was 3:58 hours. His EIS showed 7.9 hrs for the round trip. On the way out he flew at 12.5K feet all the way and saw tailwinds from 2 to 10 knots.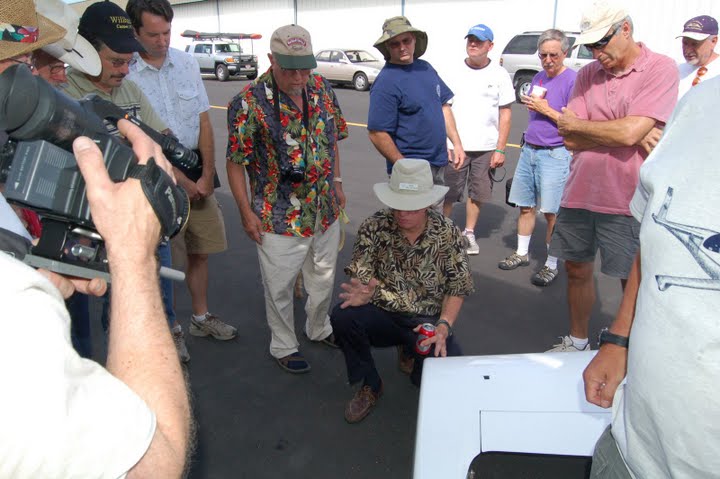 His TAS was generally about 148 Ktas burning about 3.1 gph and an average speed of 151 knots. Gary says that with attention to detail these planes can indeed be very efficient. We learned about induced drag, parasitic drag, skin friction drag, gaps and leaks, ducts and baffles, engine cooling drag, wingtip considerations, the importance of the canard/fuselage junction point, and wheelpant improvement... enough to make your head spin, but to make sure our heads stayed on, we then went out to the tarmac and Gary layed his hands on a number of planes to concretely illustrate what he had spoken of theoretically. Jon Finley graciously had supplied us prior to the event with some tufting video of his plane to confirm Gary's analyses of what can indeed be observed on our planes. Gary's presentation concluded with a forum on propellers, and how he makes his props. What started out as a part-time hobby after his retirement from working with jet turbines for 30 years has now turned into another almost a full-time business. Regrettably for us Q builders and pilots, Gary is making props almost exclusively for the EZ community, but i may try to twist his arm to think about our Quickie bunch. Co-host Sam Kittle's barbecued chicken dinner was even better than ever this year, and there is some ingredient that Brenda, his wife uses in the marinade that i am just going to have to wheedle out of her.... thou gh, as with any good cook, a family recipe like that usually remains top secret! Those who missed the dinner, missed the best chicken and potato salad anywhere! And those who missed the fly-in itself missed a great one. All in all, what a great weekend for Quickies! Our Grand Poohbah, Jimmy Masal, who managed some great connections on SWA to attend the LVK event authored a more complete report which can be read in one of the back issues of the QBA publication, Q-Talk.